Sole di Sari
OUR PITCHES AND RENTALS OF MOBILE HOMES IN SOLENZARA
If you love camping holidays, then head to the Sole di Sari campsite! Located in Solenzara on the magnificent Côte des Nacres, our campsite has accommodation to meet all needs. Check out our range of chalets, mobile homes and eco-lodge tents.
CHECK OUT OUR PREMIUM ACCOMMODATION
The Premium mobile homes and chalets are modern and functional. They have a fully-equipped kitchen including a dishwasher and a spacious living-dining area so that you feel right at home. Air-conditioned and with a shady private terrace, you can fully recharge your batteries in our Premium accommodation. Nestled on a private plot, you can easily access the campsite's services and equipment.
And for even more comfort, you can opt for our Premium Exclusive service. You'll get an internet connection in your rental. Fabric sheets and towels are provided. Finally, you can benefit from a free end-of-stay Cleaning package.
OUR PREMIUM RANGE:
Sleeps: up to 6 people
Personalised services
All less than 3 years' old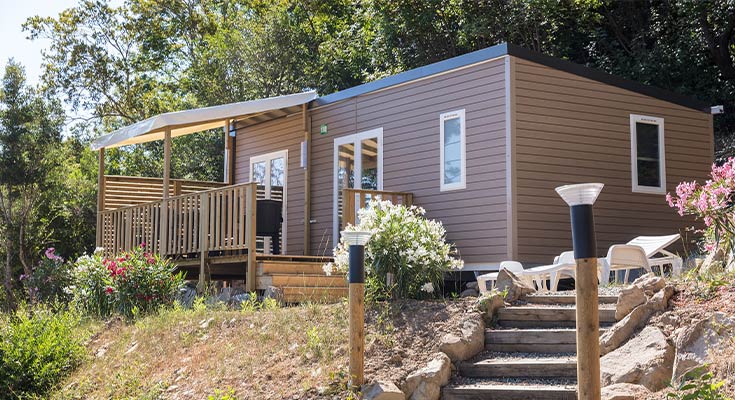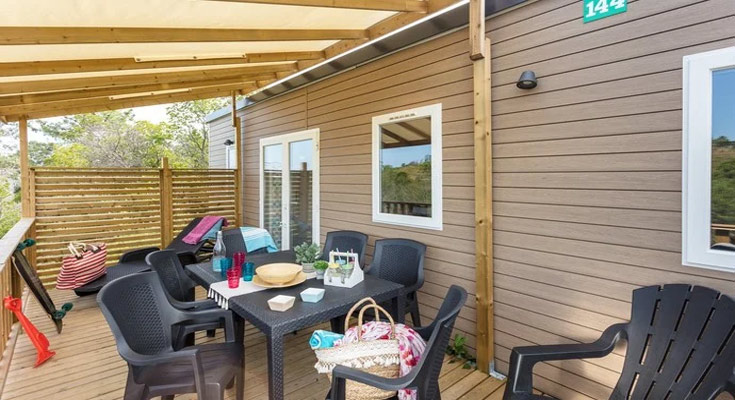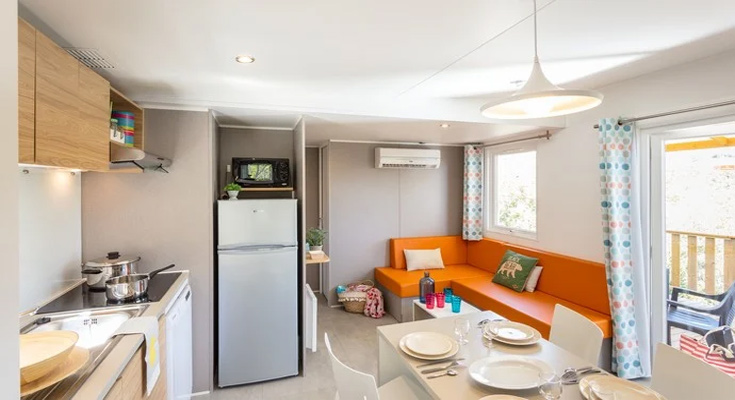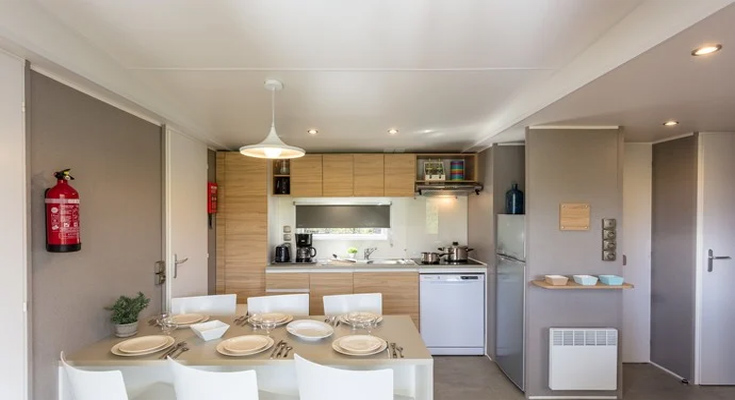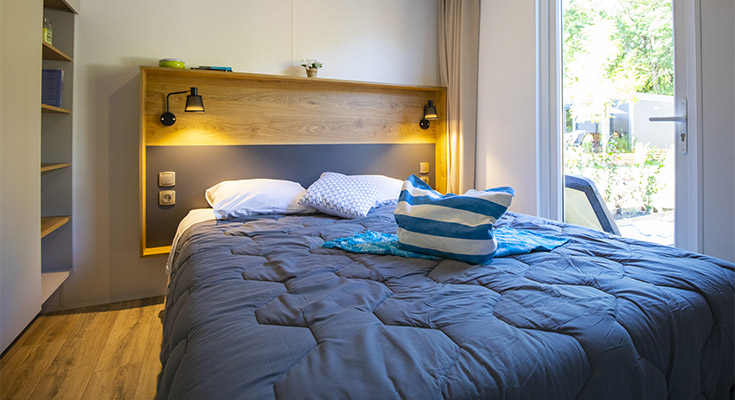 CHECK OUT OUR COMFORT MOBILE HOMES
It's easy to find all-mod-cons accommodation and enjoy the surrounding nature on the Isle of Beauty, With the Comfort range mobile homes, the Sole di Sari campsite guarantees an unforgettable holiday.
Our functional Comfort mobile homes are welcoming and comfy. Designed to be little holiday homes, you'll find one to suit your budget and requirements. In addition to air-conditioning, a shady terrace and an equipped kitchen, you can also opt for a range of personalised services. For example, you can get a Wi-Fi connection in the living area and the campsite can provide you with sheets.
OUR COMFORT RANGE:
Accommodation less than 10 years' old
Sleeps: up to 6 people
Shady private terrace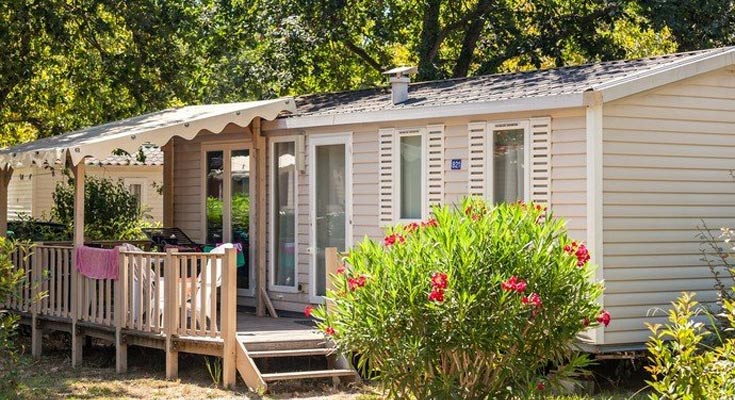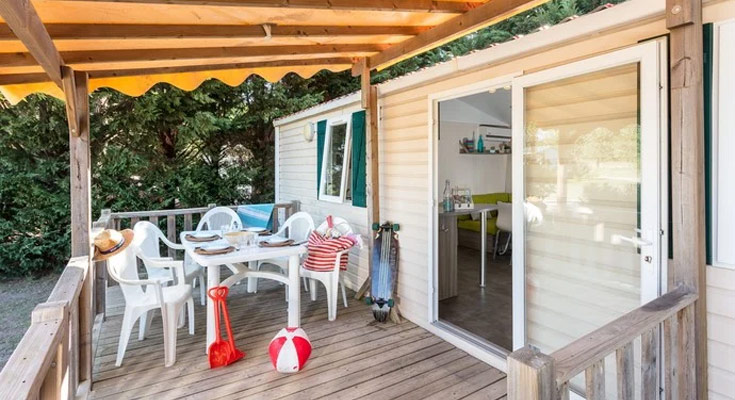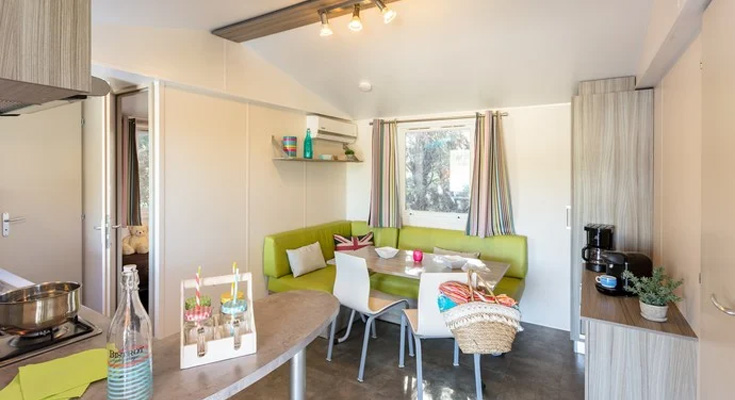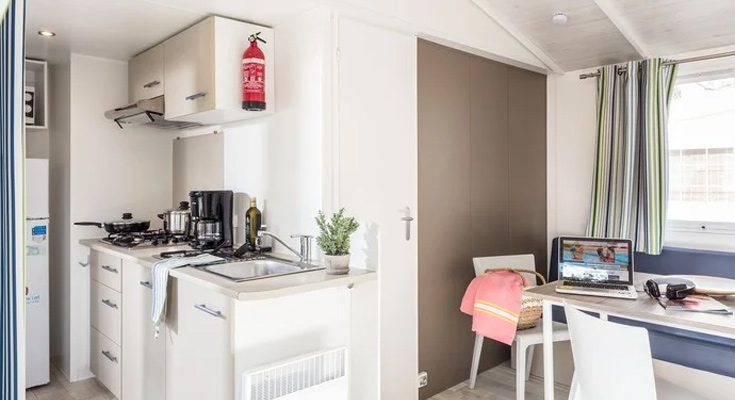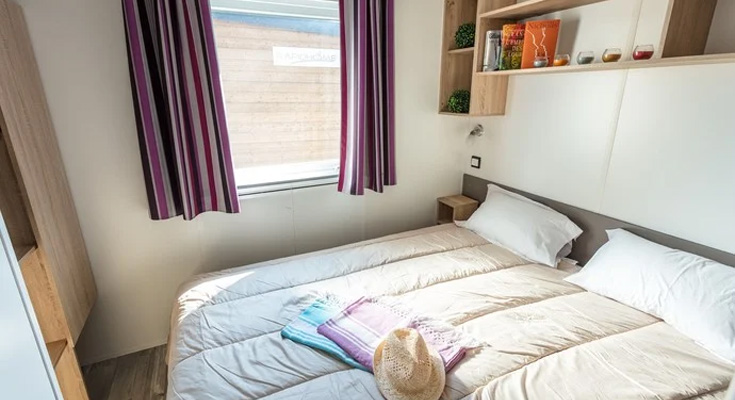 CHECK OUT OUR ECO-LODGE TENTS
In addition to their outdoors design, our eco-lodge tents are the perfect place to unwind. Nestled on a private plot, you can benefit from the charm of a canvas glamping tent combined with the comfort of a mobile home. They have all the equipment you'll need for an unforgettable holiday.
Rustle up tasty meals in their fitted kitchen/. Settle down on the shady terrace with your family of friends. And if you book an eco-lodge tent, you'll be able to easily access all the Sole di Sari campsite's services and equipment. Enjoy afternoon dips and fantastic evenings!
OUR ECO-LODGE TENTS:
Sleeps: up to 5 people
Accommodation less than 10 years' old
Garden furniture on the terrace