Welcome to
CAMPINSITE SOLE DI SARI IN SOLENZARA ★★★★
Located in Solenzara, on the magnificent Côte des Nacres, our 4-star Sole di Sari campsite promises superb holidays by the Mediterranean Sea.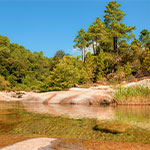 The ideal Côte des Nacres location.
Situated by Solenzare river, at the foot of the Aiguilles de Bavella. The beaches are only 1 km away!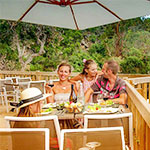 Top quality services
Restaurant-bar with panoramic views, kids' club, Wi-Fi, bike hire, fresh bread...

Entertainment throughout the season
Fitness classes, aquagym, sports competitions, playground, ping-pong, relaxing evening entertainment...

A family-friendly waterpark
Several pools with different depths, a whirlpool and a solarium. Fantastic view across the surrounding countryside.
OUR SERVICES & FACILITIES
Your rental in Corse-du-Sud
SOLE DI SARI ★★★★
The 4-star Sole de Sari campsite benefits from an idyllic setting in Solenzara on the Côte des Nacres in Corse-du-Sud. Whether with friends, family or as a couple, enjoy a holiday in a mobile home, chalet or eco-lodge tent.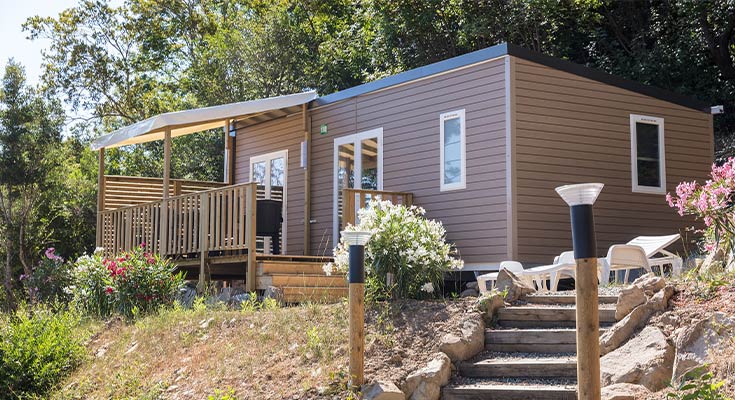 OUR PREMIUM RANGE
The best of our rentals
Situated a stone's throw from a refreshing river, our
Premium mobile homes and chalets
will ensure you have a top-notch holiday. You can enjoy
la dolce vita
Corsica-style in extremely comfy accommodation.
Premium Exclusive Service
Fully-equipped kitchen including a dishwasher
All less than 4 years'old
Shady private terrace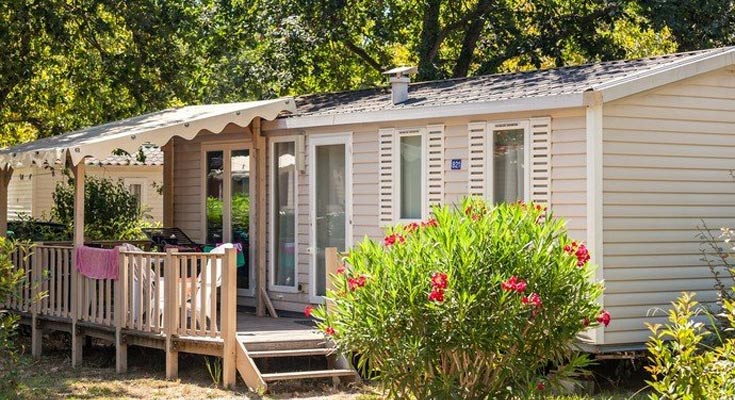 OUR COMFORT MOBILE HOMES
Functional, welcoming and well-equipped
At the Sole di Sari campsite, outdoor-lovers can enjoy accommodation that's comfy and close to nature by booking a
Comfort mobile home
. Perfect for families and groups of friends, they'll guarantee a fun holiday in Corse-du-Sud.
Functional, welcoming and well-equipped
.
Fully-equipped kitchen
Air-conditioning and a shady terrace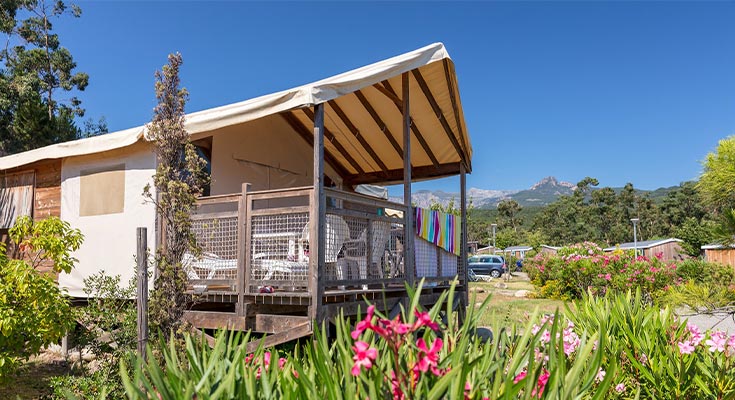 OUR ECO-LODGE TENTS
Unusual accommodation in Corsica
Treat yourself to an all-you-need holiday at the Sole di Sari campsite. Our
eco-lodge tents
combine the charm of glamping with the comfort of a mobile home. Functional and welcoming, you're guaranteed to have a unique holiday in a charming setting.
Shady terrace
Garden furniture
Equipped kitchen
Shower room
Once again this year, the Sole di Sariteam and I will be delighted to welcome you to the campsite for an unforgettable holiday in Corse-du-Sud.
As we want you to make the most of our little corner of paradise, we do all we can to keep the natural setting around all our buildings and structures.
Nestled on the banks of River Solenzara, just a few mintues' from the beach, our campsite is the place to go to forget your daily grind and live for the moment on the Isle of Beauty.
– Doreen LEMKE, Director –
DISCOVER THE ★★★★ SOLE DI SARI CAMPSITE
SOLE DI SARI, A CAMPSITE IN SOLENZARA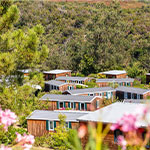 Nestled on the banks of River Solenzara, at the base of the lush Aiguilles de Bavella, the Sole di Sari campsite benefits from an idyllic setting. From springtime onwards, Corse-du-Sud's landscapes are a joy to behold.
With friends, family or as a couple, our campsite is the ideal base from which to explore the Isle of Beauty's natural wonders and cultural heritage. The moment you arrive at Solenzara, you can settle down in your all-mod-cons mobile home, chalet or eco-lodge. From the comfort of your little holiday home, on your terrace or while enjoying a relaxing drink at the bar, plan your island escapades.
Whether you fancy being lazy, want to enjoy outdoor sports or dig into the local cuisine, Corsica has all you need.
From Bonifacio to Bastia, Porto Vecchio and Ajaccio, the island's towns and villages are steeped in history. Stroll around little lanes, sample local dishes and visit Corsica's numerous museums.
From sports to downtime, enjoy sandy beaches, the Med's crystal-clear water and the island's stunning hiking trails. The beaches at Scaffa Rossa, Santa Giulia and Palombaggia are picture-postcard perfect. Hikers and walkers will love the majestic landscapes if they head off along the GR20 or through the forest at Aiguilles de Barvella.
And after your busy (or lazy!) day, return to base and the comfort of our 4-star Sole de Sari campsite.
4-STAR SERVICES TO CATER FOR YOUR EVERY NEED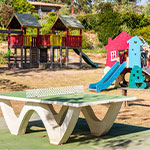 A 4-star campsite on the Côte de Nacres, Sole di Sari has everything holidaymakers need.
With numerous on-site services, our campsite is designed to make life easy! Whether you opt for the comfort of top-of-the-range Premium accommodation, the practicality of a Comfort mobile home or the charm of an eco-lodge, you can benefit from a wealth of personalised services. When you book or arrive at the campsite, you can add a Wi-Fi connection in your accommodation, the Premium Exclusive service or the end-of-stay Cleaning package. Our team will suggest all the options that suit your budget and meet your needs.
In addition to personalised services, you can quickly access all the campsite's facilities. Away from the hustle and bustle, enjoy la dolce vita Corsica-style at our restaurant-bar. Sample delicious dishes in the shade of the terrace while admiring the stunning panoramic view of the surrounding countryside. Order some takeway "spuntinu" (snacks!) to munch on in your mobile home or during your excursions. And why not enjoy a hearty breakfast, which is served in the bar? To complete enjoyable meals with your close ones, you can buy fresh bread and pastries on site.
Young and old can have fun all-day-long in the campsite's water park. Try out its different pools, whirlpool and solarium for a fantastic day in the sun. If you fancy a refreshing dip, then head to River Solenzara and its emerald green natural pools.
Beginners and hardened sports fans can burn some calories on the multisports area or join in a fitness class or aquagym session.
Our team will be on hand throughout the season. Little ones can get stuck into the Kids' club activities, while older members of your party take part in sports competitions or a game of pétanque. But take note that the entertainment here is easy-going so that all guests can enjoy some calm!